August 12th, 2017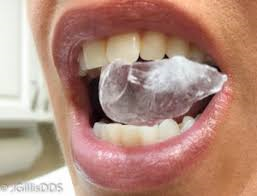 It's a habit many people have and not only can it be annoying to the people around you, it can be detrimental to your dental health.  Chewing ice is so common that it even has its own name, pagophagia.
Although it can appear to be a seemingly harmless habit, from our side of the chair we see the damage.  Chewing on ice can cause:  chipped teeth, damaged enamel, sore jaw muscles, and damage to dental work such as crowns, fillings, or other appliances.
For whatever reason you find yourself chewing on it, it's a habit you need to break.
Next time you find yourself wanting to chew on something , try these alternatives:
Baby carrots, celery sticks or sugar -free (xylitol) gum