May 12th, 2017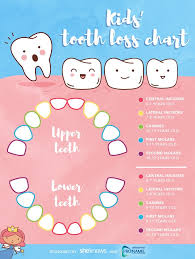 Many parents worry that their children's teeth are not falling out on time.  A lot of concerned parents want to know: When will my child lose his or her first baby tooth? At what age should the last tooth fall out?  Is there a specific order in which the teeth are lost?
A child's 20 baby teeth typically come in by age three and begin to loosen and fall out on their own to make room for permanent teeth, which usually appear by the time your child is six.  It is important to know that timing may vary, and girls typically lose their baby teeth earlier than boys.  The last baby teeth will likely fall out by the time your child is 13.
Baby teeth tend to fall out in the order in which they came, which means the lower center incisors are usually the first to go when your child is between six and seven years old.  The next teeth your child will lose are his or her top center pair, also called the upper central incisors.